! TITLE: HI Surf Advisory > <! AUTHOR: Neal Miyake (sponge@ohana.com) >
HI Surf Advisory

MIKE STEWART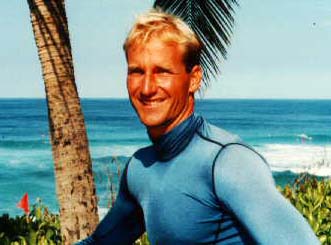 The Chairman of the Board
I caught Mike at Ehukai Beach Park on January 13, 1996, the day after he won the 14th annual Morey Bodyboards International event. It was his tenth time winning the contest. Mike has always been the ultimate competitor, the ultimate innovator, the best ambassador the sport has ever seen. Congrats, Mike--you the man!
HSA: Congratulations on winning your tenth Morey International. Does it feel any different than winning it 12 years ago?
MS: It's a bigger sport now. But I kinda have mixed feelings this year, because the title was on the line and I didn't convert it.
HSA: What did Guilherme (Tamega) need to seal the title?
MS: Third.
HSA: So he just made it then.
MS: Yeah. So that's why it's bittersweet.
HSA: I heard you had a hard run on the GOB series?
MS: Yeah. I wasn't really too enthusiastic with the surf. The conditions in most of the events were knee-high ... junk.
HSA: Was it timing or small (event) window?
MS: It was the venues. Venues and holding periods.
HSA: How about this year? Is it looking any better?
MS: Hopefully.
HSA: Your engaged to be married soon. Does this mean we'll see less and less of Mike Stewart?
MS: Depends where you look.
HSA: What about the competition scene?
MS: You mean as far as my participation?
HSA: Yes.
MS: As long as the design of the tour is conducive to high performance bodyboarding, I'll be a part of it.
HSA: What's up with the Big Island boys and Spencer Skipper (who won the U.S. Open of Surfing's bodyboarding division and got second in the '96 Morey International)? Is he the heir apparent to your throne?
MS: Hopefully not. At least not in the near future. Maybe later.
HSA: I guess right now it's Guilherme?
MS: Well... he just won the title, but I'd prefer Spencer to be World Champion.
HSA: Does he have a chance?
MS: Sure.
HSA: What kind of new maneuvers can we look forward to seeing from you?
MS: Just doing the same old stuff--combined axis maneuvers: rolls, spins, airs, flips.
HSA: Just one more question, straying a little from the subject. How has technology--via materials, manufacturing and computers--pushed bodyboarding to where its at now? Has it helped?
MS: Yes, definitely. I have all my designs on CAD (computer aided design) and that's helped me a lot in precision of manufacturing. Also, the advent of new materials usually equates to better performance and enhanced performance which means new maneuvers which progresses the sport. It all goes hand in hand.
HSA: OK, thanks a lot Mike.
MS: You bet.
---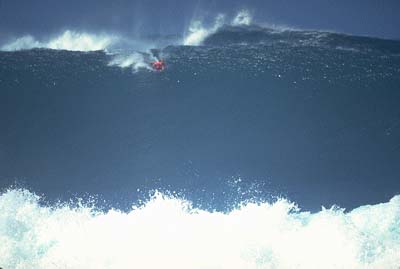 ---

Back to Views Page