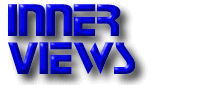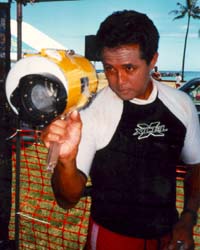 Reid Inouye
Surf Promoter (and part-time Revlon user)
Reid Inouye has been one of the biggest promoters of surfing in the islands. Guys like Derek Ho, Sunny Garcia and Kalani Robb have all been nurtured under his programs. The founder/owner of the now defunct Surfing Hawaii shop, Reid moved on to various projects, including directing the Hawaii Surfing Federation (HSF) and the Hawaii Pro/Am Circuit (HPAC). It was during that time that I met and worked with him, running his amateur events. Reid has once again moved on to new surf-related endeavors.
This interview occurred on June 14, 1997, at Magic Island/Ala Moana during the HASA State Amateur Surfing Championships. Reid was just about to jump into the lineup with his waterproof videocam when I caught this casual interview with him:

---
HSA: Reid, you used to be the amateur contest director for what, ten years, and you've moved on to bigger and better things now. What's up with your life now?
RI: More like 14 years.
HSA: So what have you been doing?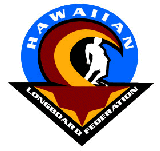 RI: Shooting a lot of video. We just started the Hawaiian Longboarding Federation (pro/am series in Hawaii), so I guess I'm getting back into constests, more on the marketing and media side, to help promote the events.
What I learned, is, after 10 years, you have to delegate the work out; it's the only way it's going to work. You have to have the right people involved.
HSA: Yeah, you used to always delegate the work to me. Nah!
RI: That's why, you gotta always get the right guys... the suckers!
HSA: That's why I'm gone. So how's your shows, you got two: Gotcha Backoor and Slam TV. Tell me a little about both.
RI: Gotcha Backdoor is about surfing... actually I wanted to turn it into an adventure show, but... see that big guy out in the water (who shall remain nameless), in his little Zodiac thingy? He wants to turn it into a contest and party show, so that's what it is.
And the extreme sports show (Slam TV), it'll get better. This month we got this one guy going 140 (mph) on the ground on metal plattted shoes on the back of his bike. That's kinda like the direction we want to go. And we're working on other projects.
HSA: You recommend that to children, huh?
RI: Yeah, tricycles going 100 miles, just hang on. Hook up your tricycles to the back of your father's car and go down the freeway, then you guys will know. [joke!]
HSA: Are you going to start off a magazine (a free local surf mag)?
RI: It's kinda in the talking stages right now, it's going to happen. It's gonna be more like tabloid kinda thing, real localized tabloid kinda thing. More about what's happening locally... parties, extreme sports, surfing, places to eat, stupid people, stuff like that.
HSA: You gotta interview me, then. Okay, going back to the shows, it's (broadcast) statewide; is it going national?
RI: Just to the islands. What we're doing, we have it on this island (Oceanic) three times a week. We also have it on Kauai and the Big Island. Been working on some other projects too, in surfing. Actually, we're working on a show with a friend of mine that we're trying to market to ESPN, so that's like a big project.
HSA: What would that be, like a pro surfing event?
RI: Hawaiian Sports Adventure, but more extreme, like not just ocean, but anything Hawaiian that's extreme, and would include all the bikini fashion segments. That's what people around the US want to see anyway.
HSA: Did you get the longboard that you owe me?
RI: I know, what happened to my yellow 7' 11" (an old yellow 8' Jay Richardson Surfing Hawaii minitank)?
HSA: You gave it to me!
RI: Collector's item, keep it. So when I see you, I'll run you over. Then I won't have to pay you for dinging the board.
HSA: Anything else you want to say to the world.
RI: If you surf, you are lucky, go out and have fun. If you don't surf, get to the ocean and try it. It's one of the best things you can do in your life.
HSA: Good words, thanks Reid.
---
Check out clips from Backdoor and Slam TV in my Running Water directory.
---