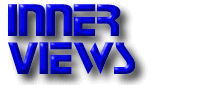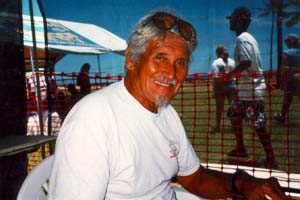 Rabbit Kekai
He's Found the Fountain of Youth... Surfing!
Rabbit Kekai and I worked together at amateur surfing contests for over six years. He is a wily character, but a true ambassador to the sport of surfing. On this day (June 14, 1997), I caught Rabbit calling heats at the HASA Hawaii Amateur Surfing Championships at Ala Moana/Magic Island.
---
HSA: Rabbit, you just got back from your contest in Costa Rica?
RK: Yep. One of the best contests in the whole world. For longboarders I think it's a paradise. Because you get everybody down there, and I tell you, there's nobody that ever says anything bad about the place, because the waves is about 6-8-10 foot waves, you can ride the waves for 3 minutes and 15 seconds, but in contests you go down so much and you gotta kick out. As far as longboarders are concerned, working the waves over there, it's a paradise for all longboard surfers.
HSA: How many years have you held this contest... four, five?
RK: Five. It's my fifth time down there, and the accomodations down there is about one of the best. They have a package deal that you go down there and you have your plane fare, hotel, car, all the food you can eat, and all the booze you can drink. I think there's a lot of the Hawaiians are going back down, because the Hawaiians went down there, they did good. A couple of them got first places and they were stoked with everything that was down there, everything that was offered to them.
HSA: What, not better than Hawaii, huh?
RK: Well, Hawaii's alright,everybody's closer to home, but the climate is the same. But one of the things the guys like is that they come home with the first places, like you get trophies, brand new surfboards, tee-shirts, you name it. And it's all sponsored by Toes On the Nose... Toes On the Nose!
HSA: What was it like growing up being a Waikiki beach boy?
RK: It's been my lifestyle, down there I was brought up like that since when I was a kid, and all the way. Some of the biggest guy in the business down there like the Duke (Duke Kahanamoku), John Duke, Piko, and those are the guys that helped me, kicked my butt when I did something wrong. And teaching me all the good points of the game down there, surfing and canoeing.
HSA: You took care of some pretty major stars in your time, like um.... David Niven.
RK: There's a hell of a lot of guys: David Niven, Red Skelton, William Bendex (?), Kirk Douglas, Gary Cooper, and that commentator... I forget his name.
HSA: And they all surfed, first try?
RK: They all surfed, and the guy that I really liked, he just listens and just do it. He didn't like the demonstration. Gregory Peck was his name, and the guy, you just talk to him, he looked at the wave, you tell him to go, he goes, and he just rides the wave all the way in. That guy did so well, he enjoyed it.
Coming in, he noticed a big crowd on the beach, he thought somebody drowned. He asked me what happen and I told him they were waiting for him in there. I told him to swim down there, and I go out with the board, he goes down the far end of the Royal and walks inside--nobody bothered him. I bring the empty board in, and everyone tells me where is he. I told them he's out there swimming.
HSA: Okay, you've been surfing for a long time. And I read someplace that you were one of the first to pioneer the North Shore even, and might've surfed Pipe before anyone. Is that true?
RK: We used to have a group that used to travel all the circuit, like every known spot on the island. George Downing, Wally Froseith, and all those guys. And we surfed all the spots like Pipeline. And it's different from now. Pipeline is not like that, it used to be really good. And the place they call V-land, it used to be a left, and now it's a right.
And everybody has asked me why and I say the coral has grown throughout the years. Look at me, from small kid, coral is small, I'm 76 years old, and coral grow too. Now the formation of all the places, even Sunset has changed. And you aske these guys, how come it was named V-land. I say it was named after Velzy. What was it before? Paumalu, that whole place from Sunset was known as Paumalu. It's a good district, I grew up there. We had property there, but my aunt and uncle sold the damned thing--we were all pissed off.
HSA: I forgot to ask you, how old you are. You are still surfing actively, yeah.
RK: 76 years old. Still going, still ticking. My heart's still young.
HSA: I've seen you surfing out at 10' Sunset just a few years ago... Crazy!
RK: I surf anytime, anytime there's good waves. Like last year, just before the ending of the Pipeline (6-8'), I like to go out there. I was out there with Joel Tudor and all the rest of the guys, using their boards.
HSA: Too good that guy (Joel), huh?
RK: Unreal!
HSA: So, what happened to your wrist here? Looks like you have a bowling glove.
RK: It's more like a wrist supporter. I snapped my wrist again. I broke that thing up in Malibu surfing, and my skeg got caught in two feet of water, and I went flying head first right on my face, put my hands to brace, and broke both of my wrists.
HSA: When was this?
RK: Two years ago. It healed, and then now it recurred. Something heavy like a cabinet was coming down on me. I put my hand up to protect me, and it snapped back again. Pain!
They shot some drugs up into me, and a thing they called Steroids. My body is pure--no drugs and no alcohol, or whatever--and they put about a quarter of a dosage in me. And I went bowling that night and sweat, sweat, sweat, pouring down my face, dizzy. You name it, everything happened to me with those things like that. It's something that the body don't take. And I don't like that kind of stuff and that's why I stay away from drugs, and if I can get any of these kids around here to listen, stay outta drugs, stay clean, stay clean, say no to drugs.
HSA: Good words to live by... all your life. You've been helping out (and participating) in contests for a long time. What have you seen change, and who do you think are the up-and-comers, the good guys?
RK: Well, looking down the pipe, way back younger, raw bone days, when we had boards that are not up to date like these modern boards that you have here. We just pioneered the whole thing and do our things, and we were about the best you can ever get during our times. And we had these things what we called hot curl boards. And riding these modern boards is great difference and much easier for us guys now.
But you try getting those top-knotch surfers to ride our boards, and you see what they do... they look like beginners, they look like mullets or whatever you call them. We had a session with the hot curl boards down a Queens. Herbie Fletcher filmed the whole thing. We had Bonga Perkins, Joel Tudor and Wingnut. And it's the funniest thing watching them try and turn the damned thing, they couldn't turn. They been fallling all over the place, they got the hang of it. I told Joel, do what you're doing now, the drop-knee turn. He did it, and he turned the board. Couldn't believe it.
So that's the way it is from my time down to this time. I think it's a plus nowadays that the boards are light, but still yet, competition now is very stiff. And being my age, I have to compete with the 45 years and older guys--them young punks as I call them.
HSA: Yeah, Grandmasters (division) is 45 and up. One last thing, how did you get the nickname "Rabbit?"
RK: That's a long story, I'd rather not go into it. But I'm fast, I (used to ) run 9.6 in the 100.
HSA: Okay, thanks a lot, Rabbit!
---