! TITLE: HI Surf Advisory > <! AUTHOR: Neal Miyake (sponge@ohana.com) >
HI Surf Advisory

IVAN OKUDA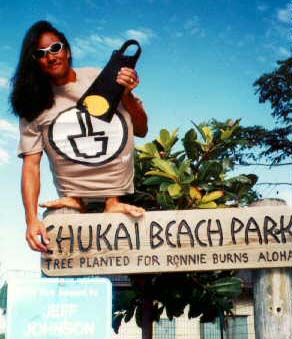 "... you gotta be honest to yourself and honest to others."
You may not have heard of him, but he's one of the best drop-knee bodyboarders in Hawaii. I got a chance to talk to my good friend on January 7, 1996 at Ehukai Beach Park, about bodyboarding, surfing and life.
HSA: Ivan, how long have you been bodyboarding?
IO: I've been bodyboarding for approximately thirteen years.
HSA: You used to be heavy into competition--do you still compete a lot?
IO: Not anymore, but I quit because Neal Miyake quit, and I follow his footsteps.
HSA: Nowadays you're into promoting bodyboarders and you're shooting videos a lot and you've taken care of the kids. I think you're one of the few people in Hawaii who really push the young ones. Do you have anything to say about that?
IO: Well, because I was young once, I'd like to put back into the community and give back what people gave me.
HSA: I think it's working because a lot of the up-and-comers that you've been helping out have done well, and some of their exposure is directly from you.
Who are you sponsored by right now?
IO: I currently ride for Delete! clothing, Viper surfing fins and Oakley sunglasses, and hopefully will come out with my own model with Yikes! bodyboards.
NM: Very good! So how 'bout this winter; how's it been so far?
IO: It's been epic. The competition hasn't been out there, 'cause Neal has been working a lot, so it has been pretty fun for me.
NM: Shut up! Nah. So what, do you split your time between bodyboarding and surfing, or are you trying to go heavy into bodyboarding again?
IO: Currently I'm trying to go more into bodyboarding because that's what I'm known for.
NM: But you still pull out that 6' 8" once in a while, eh?
IO: Well actually I did break that 6' 8" at Pipe. So use a 6' 2" now.
NM: Any words of wisdom to tell the bodyboarding and surfing community?
IO: I'd just like to say that even if you're old, like me, you can still be out there catching waves.
NM: One last question. When you were younger, you used to be a real good bodyboarder, and then you were in a tough car accident that really set you back. But through your perseverence, you came back stronger than before. How did you do it?
IO: With a good woman behind you like my wife Juvi, anything is possible. Also, you gotta believe in the Lord and you gotta be honest to yourself and honest to others.
NM: Thanks a lot Ivan. That's it!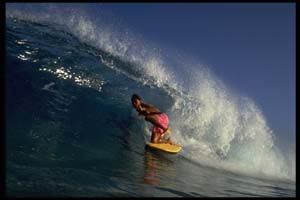 ---

Back to Views Page