Globe Trottin'
Wooden Bellyboards -- Cornwall 9/92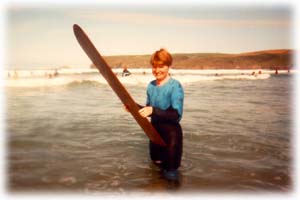 Many surfriders in the Cornwall area enjoy riding wooden bellyboards, an apparent offshoot of the Hawaiian paipo boards. These boards have been ridden here at least since the early 30's and look suspiciously like snowboards. People of all ages and gender walk out to the shorebreak and prone all the way to shore, grabbing the top of the board for control.

It was refreshing to see sixty-something year old "grommets" bellyboarding in only surf trunks in the 55 degree water. Stoke takes on a whole new meaning.


---