Globe Trottin'
The Surf to Save Contest -- Cornwall 9/92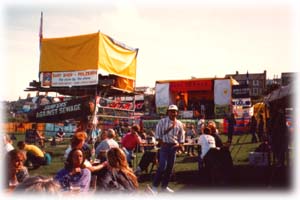 The fifth annual Surf to Save '92 contest was held on September 18 to 20, 1992 at Polzeath (pronounced "poll-zith"), Cornwall, Britain. Over 250 people participated in fourteen different surfing events (including bodyboarding!), with the environmental theme to "Clean the Seas." This community event had a carnival-like atmosphere and included booths, live music and of course the contest.
The environmental groups in attendance included: Surfers Against Sewage, Greenpeace, Friends of the Earth, Sea Watch Foundation, and the Cornwall Trust for Nature. Their focus was to keep the oceans clean and protecting marine life (especially dolphins) through public awareness and action.
Bodyboarding is very popular here in Cornwall. They just started an amateur contest series and are having good turnouts. Mike Stewart and Jay Reale came through in late August on a tour to promote bodyboarding and were well-received. They even have their own bodyboarding newsprint magazine, ThreeSixty, based out of Newquay.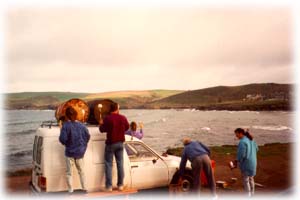 The event started on Friday with preliminary rounds held in chest-high surf. The surf dropped on Saturday to about waist-high level, so some contestants resorted to chanting surf mantras and providing percussionary background to awaken the surf goddess. It must have worked, because on Sunday, the sun came out and the surf jumped to head-high conditions.
Most of the bodyboarders competing were teenagers with really positive attitudes toward the sport. They are just like their Hawaiian counterparts, wanting to learn new maneuvers (or manoeuvres, as the Brits spell it), and feeding off any type of media they can get their hands on. It takes dedication and patience to withstand the conditions there and they aren't glory-hounds--their love for bodyboarding is pure.
My thanks goes out to Howard, Neville, and the rest of the gang for helping out this lost Hawaii bodyboarder and letting me participate in the event. Although I couldn't stay till the end, the memories will last a lifetime. Cheers!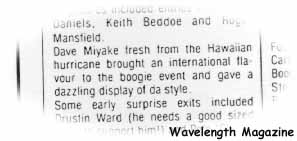 ---