Mixed Plate
A Tribute to the Original Pioneers of Bodyboarding on Kauai (Darren McDowall, 10/05)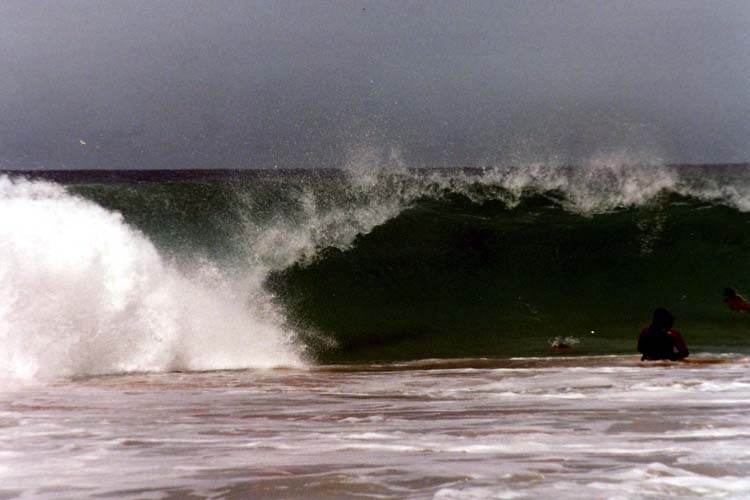 Rat (Reynard Fernandez), another original at Brennecke's
This memoir was written by my old boogie boarding and rollerskating pal Darren McDowall (currently bravely serving our country in Tikrit, Iraq). Photos by Neal.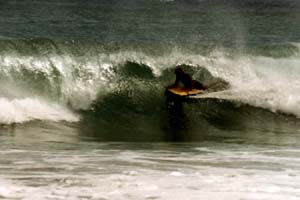 Back in the good old days, Brennecke's beach had a sandbar that made the waves break well beyond the shoreline. Many a tourist broke their neck in the powerful surf. This is where a select few of us essentially pioneered bodyboarding on Kauai.
Sometime around 1977, Mike Skovall and I bought our first "boogie boards"--kits of foam pieces and glue that had to be put together into raw creations. Mike and I made these brand new waveriding vehicles and started riding out at Brennecke's. We were on top of the world!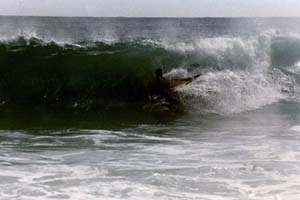 For the next decade, I bought virtually every model bodyboard that came out--boards of every size and shape including the Morey Proline and the original Morey Mach 7-7.
I remember when the Mach 7-7 model first came out--it was the first bodyboard to have a slick bottom surface. My buddies didn't want it because they were scared of the potential speed it might possess; and anyway they really loved their old Scott North Shore boards that were all the rage back then. However, I was one of the guys that wanted to really push the performance envelope, so I got it.
During my 30 years of bodyboarding I have tried every known trick we could creatively conjure up. We were doing el rollos and 360s before some of today's pros were even born.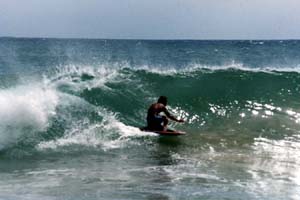 One time in 1981, we were honored to do battle in a bodyboarding contest at Brennecke's with Ben Severson, Mike Stewart and Jack "the Ripper" Lindholm. Jack's picture used to be in the wrapper of every Morey Boogie board at the stores. Imagine that--we were sharing our waves at our beach with our heroes!
The Deja Vu surf shop used to supply my tools. Much mahalo for all their support.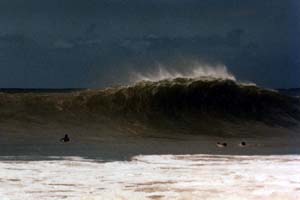 I can recall one sunny afternoon when we ventured to the mysterious Lawai Kai, a once private beach owned by a millionaire named Allerton. It was around 1983 and a select few of us witnessed one of those rare anomalies of the southern coast of Kauai.
That day a young photographer by the name of Neal Miyake was with Wade Yamamoto, Nelson Kure, and myself. Nelson was the crazy one and was our key to getting to the private beach.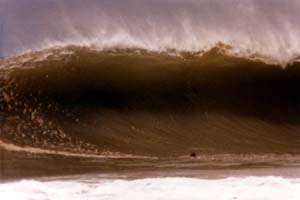 For some odd reason we picked one of the biggest days to hit this oasis. As we paddled out, the waves seemed to be climbing in size. By the time we got outside, the swells were so huge that they were breaking in 15 ft. of water.
It was truly an awe-inspiring day to be sure. I hear that the south shore in more modern times is quite a bit milder than those old days.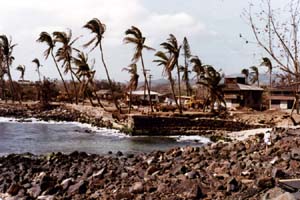 One of the hairiest encounters I ever had was the day before Hurricane Iwa hit in November 1982. The storm surge was so intense that some of the whitewater was breaking over the road that headed to Poipu Beach. I kept telling my cousin that we needed to go back in but he told me to keep catching waves. As soon as I saw the lifeguard stand floating by, I knew it was time to call it a day.
Many years have since gone by but I can still feel the sand and smell the aroma of the ocean. Back then, we just did it for the love of the sport and the appreciation of the sea.
Here are some of the other bodyboarding pioneers from Kauai that I grew up with: Mike Scovall, Wade Yamamoto, Ross "Bimbo" Asuncion, Nelson Kure, Keith Iwai, Chip and Stanley Funamura, Hank Gaskell, Mario Balmores, Kyle Maligro, and a young Harry Antipala.
Aloha!
Darren "The Cave Man of Bodyboarding" McDowall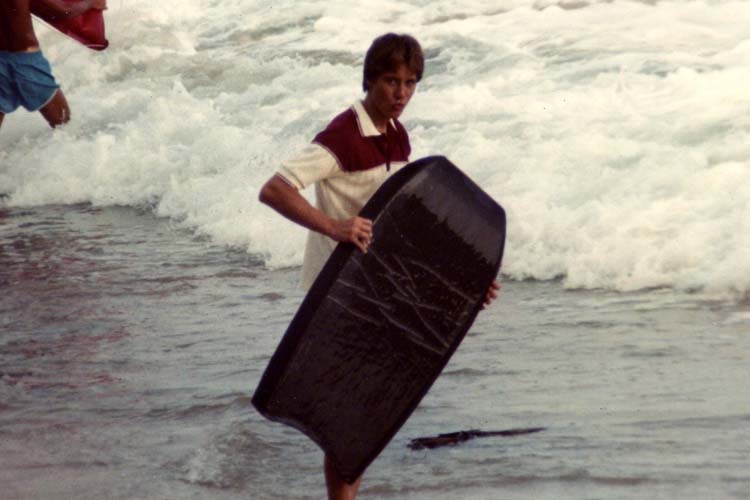 Darren with the original Morey Mach 7-7, circa 1981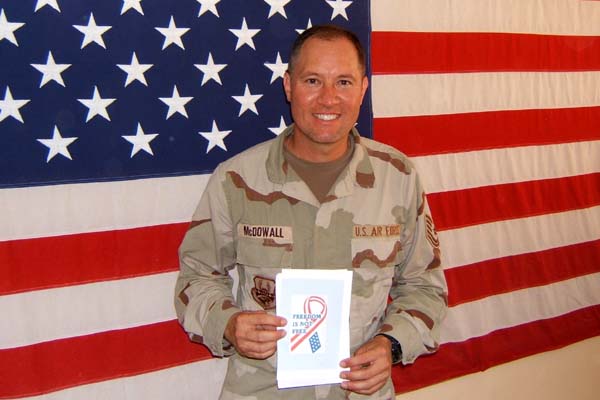 ---