World Surf Day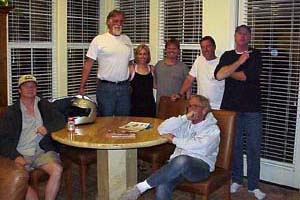 The alt.surfing newsgroup has created an annual World Surf Day (WSD), where surfers from around the world surf at their respective spots on a given day/weekend/week and share their sessions online. In 2002, after much squabbling, WSD has gone semiannual. Check out the archives of stoke!
2002 #2--November 30-December 1 (collected by ?)
2002 #1--March 30-31 (collected by sponge)
2001--April 21-22 (collected by Dan King)
2000--April 8-9 (collected by Edmund)
1999--April 10-11 (collected by m@rk)
1998--April 11-19 (week) (collected by "Da Hulk")
1997--March 29-30 (collected by Tim Maddux)
1996--did not have WSD
1995--April 1 (no archive found)
1994--September 18 (no archive found) (announcement by Robert Kieffer)
1993--April 3 (collected by Robert Kieffer)
Note: the website www.worldsurfday.com is not affiliated with alt.surfing in any way shape or form (we had the idea first).